Whether you're running a Large Corporate office, manufacturing industry, healthcare facility, or any other type of workplace, implementing a Visitor Management System in 2023 can help you streamline the process of checking people in and out, and ensure that you always know who is on your premises. As the world continues to adapt to new challenges and changes, it's more important than ever to ensure that our workplaces remain safe and secure. The Visitor Management Systemcan help you with this.
But if you're still worried that how Visitor Management system will help your organization then we have answers for some questions that you may have, like  What is VMS? How do they work? What are the benefits? In this Blog post, we'll answer 10 of the most frequently asked questions about Visitor Management systems in 2023, to help you get up to speed and make an informed decision for your business. Let's get started!
1-What is a Visitor Management System?
A Visitor Management System in 2023 (VMS) is the standard method for handling all the guests/visitors who visit your organization. The Process of Visitor Management could be manual or automated, depending upon the requirement of different Organizations. The main objective to regulate a Visitor Management Systemis to keep an eye on Visitor sign-in, registration, and check-out. Although, these are only a small part of the overall Visitor Management process because in this Automation era, the Visitor Management Systemallows businesses to capture every practically possible Visitor Management scenario such as name, contact details, the purpose of visit, Visitor movement,   arrival notifications, tracking, and host acceptance – all of which are unique to an organization's specific facility/building.
2- Why is Visitor Management important?
Managing incoming visitors is the first line of interaction with a person entering your Premises. Therefore, to ensure that the safety and security of your facilities remain the Priority, it's inevitable to efficiently manage visitors' presence from the time they enter your facility until they Check-out. By implementing a Visitor Management system, businesses can better protect their employees, visitors, and physical assets, while also enhancing operational efficiency. Moreover, having a proper Visitor Management Systemprovides a more efficient and positive experience for everyone entering your Facility including guests, employees or delivery persons.
3-What is an example of managing incoming Visitor Check -in Process?
Visitor Management for every organization shares a common goal i.e. to make managing visitors to your facility or building as easy and efficient as possible Here's an example of how Visitor Management Check-in Process works for Organizations across the globe.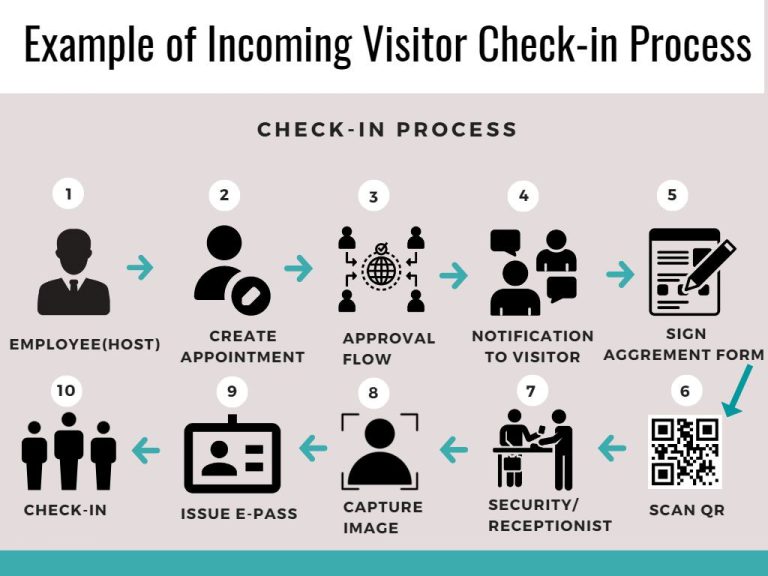 4-  What is the advantage of a Visitor monitoring system?
Visitor monitoring systems offer a range of benefits to organizations, from enhancing security to improving Visitor experience. By implementing a Visitor monitoring System Organizations can enjoy Improved Security, Better Compliance,Streamlined Processes, Enhanced Visitor Experience while also demonstrating a commitment to the Smart Organization of this Automation era. Whether you're a small business or a large corporation, A Visitor monitoring System can help you better manage your visitors and improve your overall operations in numerous ways –
• Simple, step-by-step sign-in flows , Say no to queues, collect all visitor information without any hassle.
• Automates the complex process of screening, verifying, and monitoring individuals across all of your company's locations, while adhering to all privacy, compliance, safety, and security regulations
• Centralize the Visitor Management of all your Multi locations, while allowing single facility to be individually operated as well
• Guests can finish the sign-in process directly from their smartphone or computer, at their convenience
• Increase Efficiency, and Improve Security and safety across your operations and facilities
5-What is the disadvantage of Visitor Management Solutions?
Visitor Management Solutions offer a range of benefits, including improved security, streamlined processes, and better data management. However, there are also some potential disadvantages of Visitor Management Solutions that you have to consider before implementing them in your organization.  Some of them are given below-
• High Cost of Implementation and maintenance support
• Technical Issues like downtime, and connectivity issues
• Privacy concerns, if the Visitor data is not properly secured
• Digital touchpoints, which might become an extra layer of complexity for some new visitors
6- What are the types of visitors in an organization?
In an organization, there are typically three types of visitors: business visitors, personal visitors, and government visitors.
• Business visitors are individuals who visit an organization for professional reasons. They could be clients, partners, investors, suppliers, or potential customers.
• Personal visitors are individuals who visit an organization for personal reasons. They could be family members, friends, or acquaintances of employees
• Government visitors are individuals who visit an organization on behalf of a government agency or department. They could be auditors, inspectors, regulators, or other officials.
Visitor Management systems can help Organizations distinguish between these types of visitors and have appropriate protocols and procedures in place to ensure the safety and security of everyone on their premises. By doing so, organizations can create a welcoming and secure environment for all visitors.
7- How the Visitor Management System works?
A Visitor Management Systemis a set of processes designed to help organizations to manage and track visitors who enter their premises. When utilizing a digital Visitor Management solution, there are basically 6 Visitor scenarios that the software automates without manual intervention. Here's how a typical Visitor Management solution works: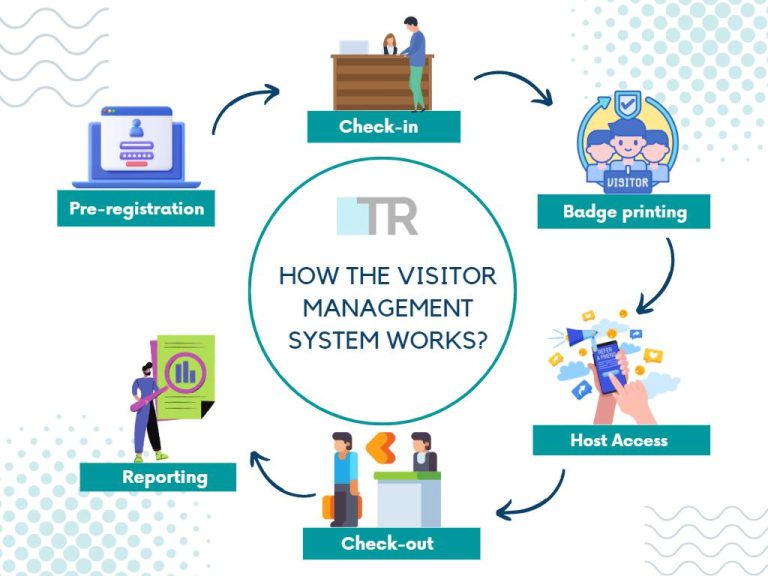 Overall, a Visitor Management Systemhelps organizations improve security, compliance, and efficiency by tracking and managing visitors effectively. It also provides a positive experience for visitors, who can check in quickly and easily and feel welcome and secure on the premises.
8 – How can the Visitor Management System be improved?
Visitor Management systems can be improved by implementing robust Visitor Management software that automates the whole process. Let's look at the real-time Visitor scenarios that a VMS can efficiently manage without any manual resource engagement.
• Automated Visitor check-in that allows visitors to check-in without the assistance of a receptionist
• Allow visitors to pre-register and check in using a mobile app
• Facial recognition technology to automate the check-in process
• Access control systems to control Visitor access to restricted areas
• Notifying hosts in real-time will improve communication and reduce the need for manual follow- Up
• Customized Visitor badges can make it more user-friendly and appealing to visitors.
• Collect and analyze Visitor data to identify trends and improve the Visitor experience.
9- What is the basic concept of Visitor software?
The Visitor software concept is based on the idea of automating the Visitor Management process to improve security and reduce manual tasks. Visitor software typically includes features such as Visitor pre-registration, check-in and check-out, badge printing, ID scanning, and host notification. Depending on the technology advancement utilized by your service provider, It may also include features such as real-time reporting, data analysis, and custom branding. By using Visitor software, organizations can reduce wait times, and improve communication with hosts, improving the Visitor experience while creating a positive impression of the organization.
10-What are the deployment options for Visitor Management software?
Visitor Management software can be deployed in several ways.The deployment option chosen will depend on several factors, such as the size and complexity of the organization, security requirements, budget, and IT resources. By evaluating the various deployment options, organizations can determine which option is best suited for their needs and objectives. Here are some of the most common deployment options for Visitor Management software:
 ♦ On-premises deployment: With an on-premises deployment, the Visitor Management software is installed on the organization's local servers
♦ Cloud-based deployment: With a cloud-based deployment, the Visitor Management software is hosted by a third-party provider and accessed over the Internet
♦ Hybrid deployment: A hybrid deployment combines both on-premises and cloud-based deployment models.
♦Mobile deployment: Mobile deployment options are becoming increasingly popular, allowing visitors to check in and out using their mobile devices, and the software is managed via a mobile application.
Conclusion
The Visitor Management is an essential Automated System for any modern workplace. It ensures the safety and security of employees, visitors, and property. By automating the check-in process, verifying visitor identities, and tracking visitor movements, VMS can provide real-time insights into who is on your premises, and help you respond quickly and effectively in case of an emergency.
If you're considering implementing a Visitor Management System for your Organization, it's important to choose a reliable, user-friendly solution. TechnoRishi VMS Provides a seamless experience for both visitors and administrators. Our system can help you enhance security, streamline operations, and maintain a professional image. We hope this FAQ has answered some of your questions about Visitor Management System, and we look forward to helping you create a safer, more efficient workplace.
 Still, left with some queries? Feel free to Comment Down Below👇👇 
To know more about Visitor Management System, Schedule a Live Demo with Us